Why is Section 508 important?
It is very important that the agencies that create digital content ensure that the content they create is accessible to people with disabilities. If you are following this blog post, probably you have heard about Section 508.
Youngsoft explains Section 508 accessibility and also things you need to give attention to while developing a 508 Compliant website.
What is Section 508?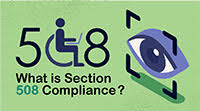 Section 508 is a part of the United States legislation that protects the right of people with disabilities to have equal access to electronic and information technology
Section 508 itself is an important amendment to the US Workforce Rehabilitation Act of 1973, and further strengthens the Act with the specific aim of eliminating barriers in information technology
Section 508 involves developing a website that can be used by people with limited vision or blindness, deafness, seizure disorders, and other disabilities
Who needs to be Compliant with Section 508?
This law concerns any company that cooperated with federal agencies. Including, but not limited to legal organizations, private contractors, healthcare and financial industries, and more.
While WCAG 2.1 are guidelines that apply to everyone, section 508 is a law that applies only to government agencies and initiatives. https://www.gsa.gov/portal/content/105254
What points are to be kept in mind while developing website with Section 508?
Color and Contrast
Keyboard Navigation
Compatible with Screen Readers
Include Captions
Include Captions
ALT Text for Images and Videos
No Time Limits
Dynamic Content/Interactivity
Web Forms
How to know if a Website is 508 Compliant or not?
The cloud consultants of Youngsoft proposed and designed an optimal infrastructure from the ground up, with a focus on delivering results to SIHO's expectations. Important elements included:
There are also Section 508 compliance checkers available online. The site asks you to enter your URL and then it will help guide you through whether or not your website is 508 compliant
Using WebAIM checklists the standards that adhere to Section 508 gives the information on what might make your website fail. There are lots of accessibility resources on WebAIM https://webaim.org/standards/508/checklist
WCAG 2.1 guidelines include conformance ratings of A, AA, or AAA, corresponding to the level of impact toward accessibility
Below section also provides more detail on testing and ensuring compatibility
How are Websites tested for Section 508
The following tools help the website achieve the highest level in 508 Compliance testing:
Web page evaluation tools
Standard specific tools

Color Contrast Analyzer
A11Y Color Contrast Accessibility Validator
Accessibility Checker

Manual inspection

View Source
Keyboard Evaluation

Audio Transmission evaluation

Screen readers (JAWS, NVDA, Window-Eyes)
You can also contact Youngsoft for developing accessibility Web Applications. Youngsoft is always at your service to help you globally.
Hope you found this information useful. Share this Post
Facebook, Twitter, Instagram.
Email Us
info@youngsoft.in